I have a lovely hair product review for y'all today! I've been a fan of Hask Hair products since I bought their Monoi Coconut Oil shampoo + conditioner right after Christmas with a Ulta gift card I had gotten as as present. I spent forever in Ulta that day smelling alllll the shampoos + conditioners and nailed it down to that one. Mmmm. SO, as you can probably guess, I was SUPER excited to have been sent their Bamboo Oil & Kalahari Melon Oil lines to test out!
First of all, ALL of their products are FREE OF: sulfates, parabens, phthalates, gluten, drying alcohol, and artificial colors. My freshly colored hair is grateful for that. And second, the SMELL. Oh my gosh, the smell. IT'S  YUMMY. I love for my hair products to smell good. It's also a huge plus if that smell lasts since I don't wash my hair but once or twice a week as I have thick + dry and it dries it out if I wash it too much. These Hask Hair lines are perfect for me.
The Bamboo Oil line (pictured above) aims to strengthen the hair and has a "herbaceous, lemongrass scent". All I know is that it smells amazing and doesn't dry my hair out at all. The quote on the cute carrying pouch that I was sent is ON POINT.
The Kalahari Melon Oil line (pictured below) provides color protection and has a "fresh exotic melon scent". Again, yummy smells and good for your hair. What else do you need?? I've been using this one the most lately since I just got my hair colored. LOVE it. The brush that I was sent with this line is a perfect size to keep in a purse or diaper bag.
Both of the lines have a deep conditioner and hair oil to complete the set. Both deep conditioners are so thick and moisturizing. I lather it on and let it sit for a few minutes before washing it out and do that about once a week. I use hair oil on my damp hair before I blow dry and after since I have such dry hair and their oil really helps soften it and gift it some shine. And both smell yummy, of course.
I'm super impressed with this hair company and you have to give them a try! You can buy Hask Hair products at Ulta, Walgreens, Target, etc. Click here for a full list of where to buy.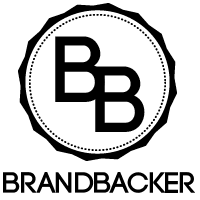 Sponsored by BrandBacker